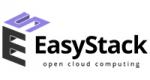 About EasyStack
EasyStack is a leading OpenStack platform, solution and services company in China. It was founded by key, experienced members of IBM China's OpenStack lab, and continues to be one of the top Chinese contributors to the OpenStack projects.
---
EasyStack Commitment
EasyStack supports www.openstack.cn, one of the most popular OpenStack technical communities in China, per Baidu and Google. www.openstack.cn organizes many OpenStack meetups and activities across China throughout the year
ESCaaS provides remotely managed private cloud that combine enterprise-level private cloud secure and public cloud on-demand character and reliability. With one unified platform both physical isolated and virtual resource can be managed.
OpenStack Services Enabled
| Service | Release | API Coverage |
| --- | --- | --- |
| Application Catalog API | Pike (Murano v1.0) | |
| Bare Metal Provisioning Service | Pike (Ironic ) | N/A |
| Big Data Processing Framework Provisioning API | Pike (Sahara v1.1) | |
| Block Storage API & Extensions | Pike (Cinder v3) | |
| Chef cookbooks to deploy OpenStack | Pike (Chef-openstack ) | N/A |
| Computable object storage | Pike (Storlets ) | N/A |
| Compute Service API & Extensions | Mitaka (Nova v2.1) | |
| Container Orchestration Engine Provisioning API & Extensions | Newton (Magnum v1) | |
| Dashboard | Mitaka (Horizon ) | N/A |
| Database as a Service API | Mitaka (Trove 1.0) | |
| Identity service API & Extensions | Mitaka (Keystone v3.0) | |
| Image service API | Mitaka (Glance v2.1) | |
| Metering & Data Collection Service API | Mitaka (Ceilometer v2.0) | |
| Networking API & Extensions | Mitaka (Neutron v2.0) | |
| Object store API & Extensions | Mitaka (Swift v1.0) | |
| Orchestration API | Mitaka (Heat v1.0) | |
Other Details
Supported Hypervisors
KVM QEMU Docker Xen
Supported Guests
Windows Linux
---
Regions where support is offered