Fleio billing 1.1 adds OpenStack Rocky support and domain name registration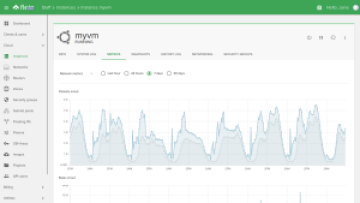 Cluj-Napoca, ROMANIA, Oct. 18, 2018 – Fleio today announced its OpenStack® customer management, billing and control panel software for public cloud and web hosting companies, Fleio billing version 1.1.
Fleio software automates the entire process for cloud users. New customers can use Fleio to sign up for an account, pay invoices, add credit to their account, pay online, as well as create and manage cloud resources such as virtual machines, storage and networking.
"If you want to build a cloud, OpenStack is the number one open source software system to orchestrate your cloud's components. If you want to sell cloud services to the general public, Fleio is the link between the end-users and your public cloud," said Adrian Andreias, Fleio CEO.
OpenStack is a set of software tools for building and managing cloud computing platforms for public and private clouds. Fleio works with multiple OpenStack geographic regions and allows end-users to manage and be charged for cloud resources, including instances (or virtual machines), volumes, snapshots, images, networks, routers, floating IPs, and more. With Fleio, cloud model billing is applied to the OpenStack resources, allowing the operator/owner to define pricing per day, hour or second of usage so the end-user only pays for the services they use.
Fleio version 1.1 adds support for the latest OpenStack® version - Rocky, domain name registration and management, ability to boot from volume when creating a new compute instance and many more features and bug fixes listed in the change log.
Fleio version 1.1 is available immediately through https://fleio.com. Leased licensing ranges from 30€ to 300€, and Perpetual (owned) licenses range from 450€ to 4500€, depending on the number of CPU cores on the compute servers.

About Fleio
Fleio Ltd. was launched in 2014 as a self-funded spinoff of Hosterion, a web hosting, cloud company based in Cluj-Napoca, Romania, "the Silicon Valley of Transylvania." Fleio is an enthusiastic team of web hosting industry veterans and developers on a mission to enable traditional web hosting companies and cloud startups to offer OpenStack public cloud services.
###
*All trademarks and copyrights are the property of their respective owners.