The State Grid win Practical Application Award with its OpenStack based cloud platform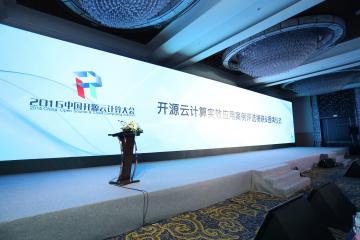 Dec. 6th, the China Open Source & Cloud Computing Summit 2016 was held in Beijing, over 500 attendees participate the Summit, gethering CIOs and CTOs from various industries all across the country.  Mr. Alan Clark delivered a speech on behalf of the OpenStack Foundation to introduce OpenStack adoption status worldwide.
The China Open Source & Cloud Computing Summit 2016 is orgniazed by Publishing House of Electronics Industry and iChina Magzine, with direction from the MIIT. During the Summit, 8 Practical Application Award have been awarded to 8 companies for to appraise their best practice of OpenStack deployment in various industries.
99Cloud Inc. won the Practical Application Award because of the State Grid OpenStack Cloud Platform. The State Grid is the largest electric utility company in the world and the #2 company of Global Fortune 500 (Y2016). It supports power for 1.1 billion people and its service covered 26 provinces and 88% area of China. 
The State Grid has a complicated heterogeneous environment consisting of centralized storage, distributed storage, container, and SDN etc. 99Cloud provides IaaS deployment based on OpenStack technology for the State Grid and manages the cloud platform with low cost, high efficiency and flexibility, unified management and easy maintenance. Based on that, the State Grid can integrate the IaaS, PaaS and all related resources completely to form a unified whole.
By the end of t2017, 99Cloud will help the State Grid to deploy the OpenStack Cloud in the entire system of the State Grid, covering all the 31 data centers which means 6000+ servers and more than 600 applications online. This will reduce the cost up to 50% overall, meaning hundred-million-yuan investment in hardware and software purchase each year.
More details of the State Grid Cloud Platform can be viewd at http://99cloud.net/en/html/2016/kehuanli_0620/50.html