Snapdeal launches its own hybrid cloud – "Snapdeal Cirrus"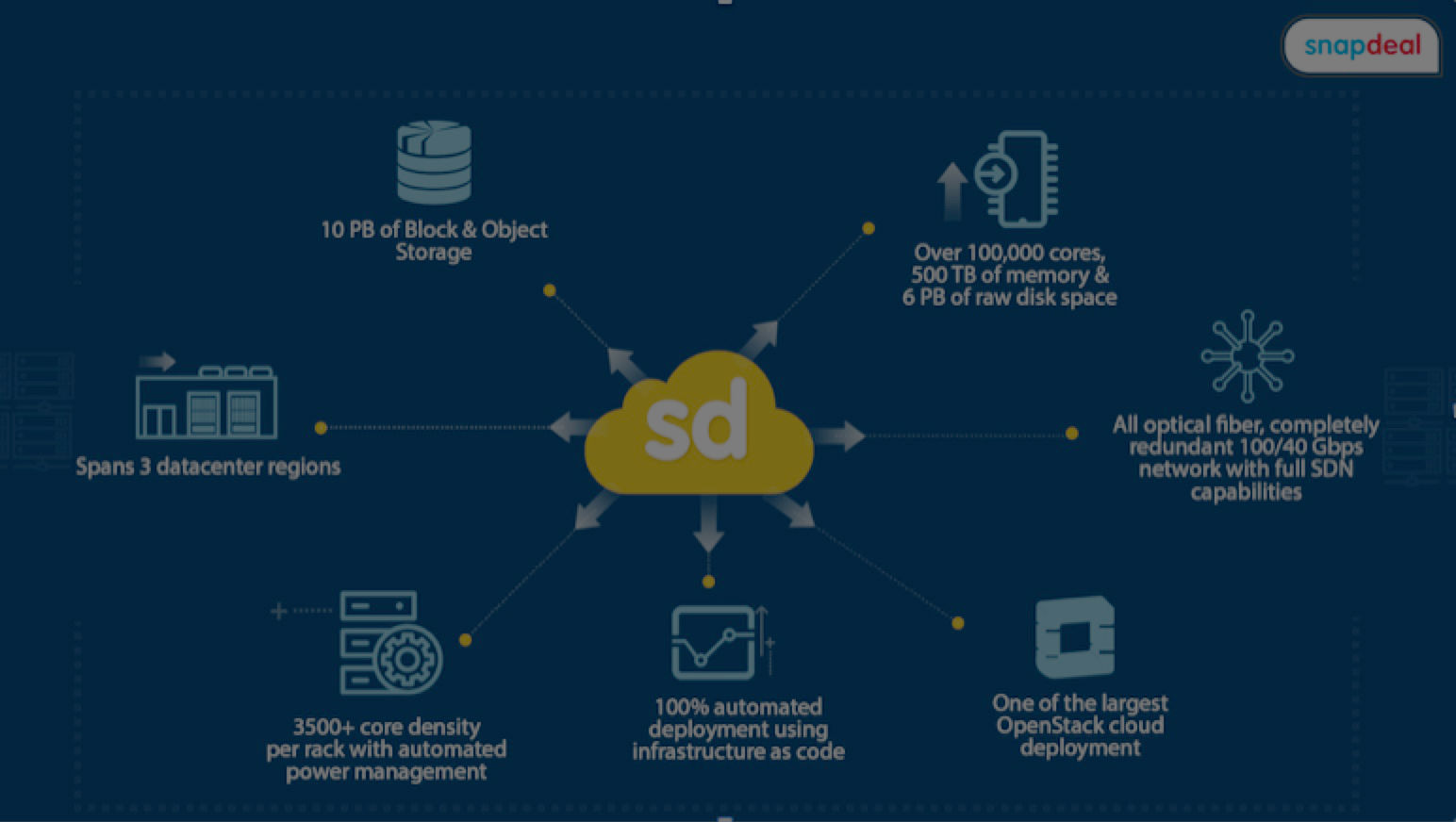 Snapdeal Cirrus will be one of the largest Openstack based hybrid cloud deployments in the world
NEW DELHI, India — September 1, 2016 — Snapdeal, India's largest online marketplace, today announced the launch of its own private cloud platform, Snapdeal Cirrus.
Snapdeal cloud is built entirely on open source with OpenStack at the center, making it not just an industry-first in India, but also one of the largest OpenStack deployments of a hybrid cloud anywhere in the world. Snapdeal Cirrus spans across three data center regions, with a highly dense server architecture of 100,000 cores, 16 PB of storage and a robust 100G SDN infrastructure – an investment made by very few companies globally.
Snapdeal Cirrus is a true hybrid cloud, which expands seamlessly to public and abstracts the underlying infrastructure away from the applications, so they can be dynamically assigned to run in different parts of the cloud.
The private cloud solution has been built and operationalized in under a year and is timed to handle long-term growth in traffic. The launch follows a sustained increase in online traffic at Snapdeal, where millions of users regularly browse, buy, make online payments and track shipments till delivery. The launch will also satiate fast growing demand for crunching big data to build personalized and relevant experiences for consumers. This move will enable Snapdeal to ensure that business growth is augmented with platform speed, security and stability.
The addition of Snapdeal Cirrus to Snapdeal's innovative technology platform, is expected to yield not just great cost savings, but will also lead to exponential performance gains across its applications, providing a still more reliable and frictionless experience to customers across India.
Commenting on the launch, Rajiv Mangla, Chief Technology Officer, Snapdeal said, "Snapdeal was born in the cloud, but public clouds stops being cost efficient after a scale, which became the case for Snapdeal sometime last year. In a short span of 10 months, we have succeeded in building an extremely resilient, scalable and secure solution. Snapdeal Cirrus is a fully automated software defined data center and cloud platform, where infrastructure is built and managed as code. We are extremely proud of what our team has achieved — Snapdeal Cirrus is one of the few successful examples globally of a large hybrid cloud built at a scale of public cloud, purely using open source technologies like OpenStack and Ceph."
Jonathan Bryce, Executive Director of the OpenStack Foundation, said, "At more than 100,000 cores and 16 petabytes of storage, Snapdeal Cirrus is one of the largest OpenStack deployments globally. Retail is one of the fastest growing vertical markets for OpenStack, and Snapdeal is among a growing group of ecommerce players outside of North America who are embracing OpenStack and the open source approach in delivering services and innovation to their customers."
Digital commerce in India is in the early stages of growth with about 80 million online shoppers, which is expected to grow to 175 million by 2020.
About Snapdeal:
Snapdeal's vision is to create India's most reliable and frictionless commerce ecosystem that creates life-changing experiences for buyers and sellers. In February 2010, Kunal Bahl along with Rohit Bansal, started Snapdeal. Today Snapdeal is India's largest online marketplace, with the widest assortment of 50 million plus products across 800 plus diverse categories from over 125,000 regional, national, and international brands and retailers. With millions of users and more than 300,000 sellers, Snapdeal is the shopping destination for Internet users across the country, delivering to 6000+ cities and towns in India. In its journey till now, Snapdeal has partnered with several global marquee investors and individuals such as SoftBank, BlackRock, Temasek, Foxconn, Alibaba, eBay Inc., Premji Invest, Intel Capital, Bessemer Venture Partners, Mr. Ratan Tata, among others.
For further information, visit www.snapdeal.com
# # # 
Media Contacts:
Madhu Arora
[email protected]