OpenStack Foundation Project Updates
Airship Project Update
Airship established incredible momentum in 2019, including confirmation by the OSF as a top-level project in October, a crucial stage of Airship's maturity. The confirmation as a top-level project signifies the community's many accomplishments since being announced as a pilot project supported by the OSF in May 2018, namely:
Airship's deep involvement with the OSF community
Active participation in both Open Infrastructure Summits and Project Teams Gathering (PTG)
Embrace of the four opens with source code hosted on OpenStack infrastructure
Open governance and mature operation with an open weekly design meeting
Code reviews through OpenStack-hosted Gerrit
Active participation in a Foundation-wide forum session on establishing open governance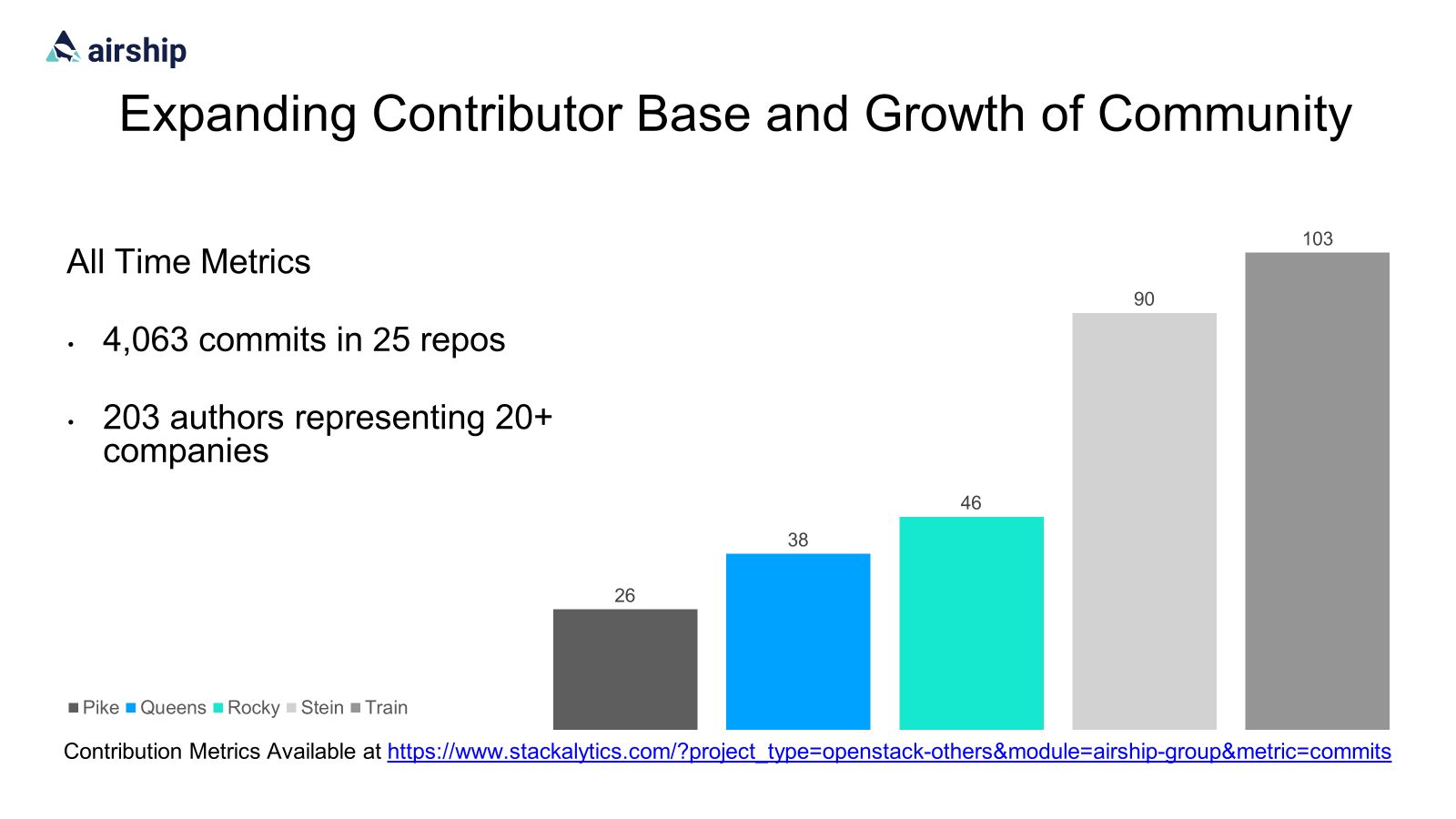 Airship is a robust mechanism for cloud operators who want to embrace containers as the new unit of infrastructure delivery at scale to manage the entire lifecycle of data center infrastructure using a unified, declarative, fully containerized, cloud native platform. Airship 1.0 was released at the Open Infrastructure Summit Denver in April. Its enterprise-readiness includes enhanced platform security, resiliency and platform deployment tooling. Airship 2.0 design and development was kicked off post 1.0 release. Its technical roadmap includes leveraging meta3-io for bare metal provisioning, the Cluster-API for Kubernetes bootstrapping and lifecycle management, Containerized Network Function (CNF) support, leverage cloud native workflow management (e.g. Argo), Helm v3 and Armada Operator, edge use cases, and YAML management improvement, etc. The picture below represents the target Airship 2.0 architecture: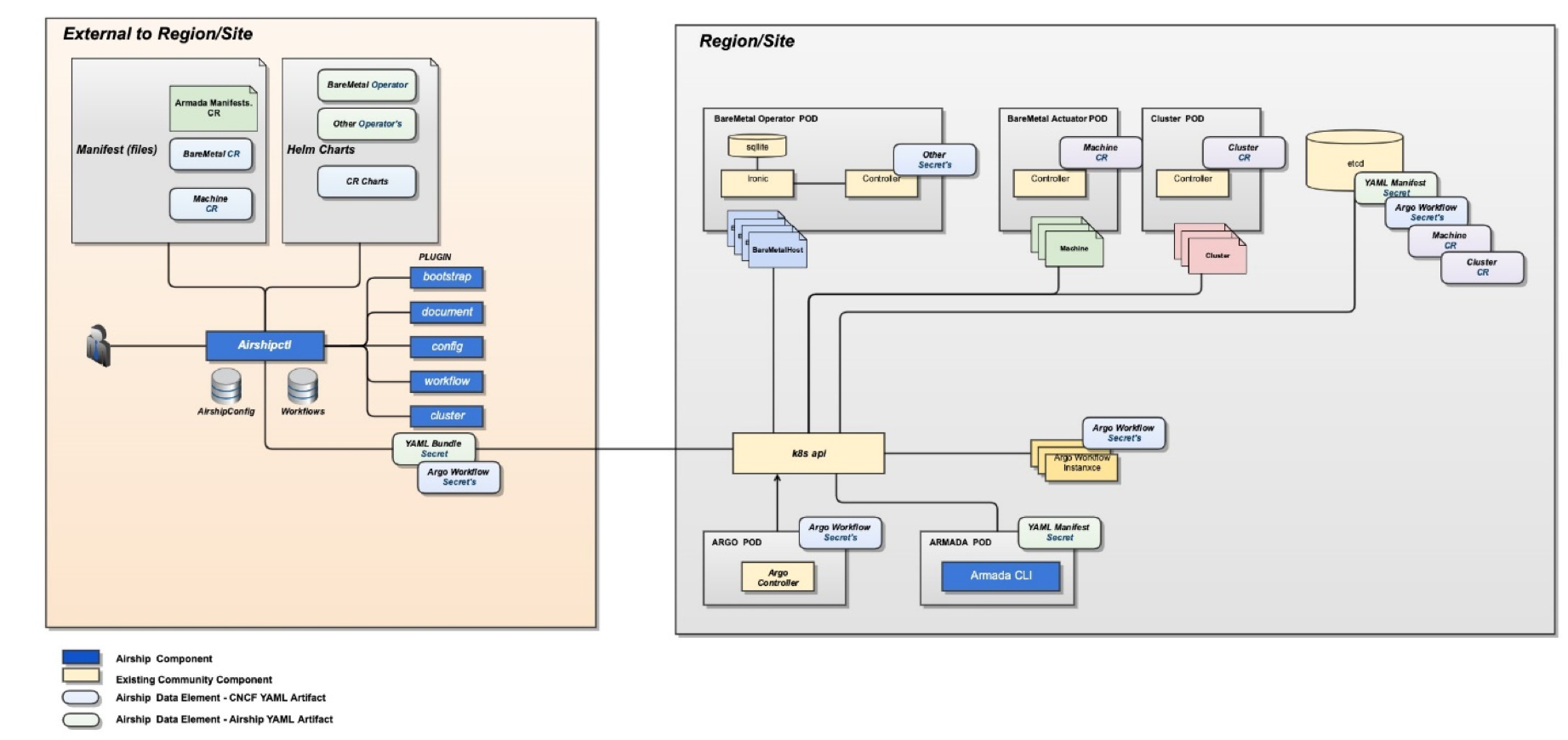 Key highlights in 2019

Airship 1.0 released in April 2019
Confirmed as a top-level project supported by the OpenStack Foundation in October 2019
A continued trend of community growth release after release of OpenStack
Enhancements to Airship including:

Full resiliency against control plane node failure (to 1 node)
Added support for OpenStack Stein deployment via Airship (Train being developed now)
Per patch set virtualized deployment and testing
End to end encryption on the wire and at rest

The adoption of formal governance – and establishing both a Technical and Working Committee
Regular blog posts of Airship 2.0 evolution
Monthly newsletter to potential supporters of Airship community
The Airship team is excited to share the future plans – a complete rebuild of Airship core code migration from Python to Golang with an alpha release planned for early 1Q 2020, a beta release late 2Q 2020, and a full 2.0 release in 2020. In addition, Airship 2.0 will penetrate into more industry domains such as common telco NFVi and 5G testbed etc.
What to look forward to with Airship 2.0
Support smaller deployments
Workflows will be fully declarative
Adopting upstream entrenched projects
Simpler document creation and management (Airship YAML was hard)
An improved flow for executing updates (changing the tires while the car is moving is hard)
Penetrate into NFVi domain, enable the reference implementation of Common Telco NFVi (CNTT) and support its VNF certification.
Ericsson and Dell are donating hardware for Airship community lab to leverage as 3rd-party CI
Empower the 5G testbed by Ericsson
Airship Channels and Meetings
IRC: #airshipit on Freenode
Mailing Lists (discuss and announce)
Developer Meetings: Tuesdays 9 AM CST in #airshipit on Freenode
Design Meetings: Thursdays, 10:00am-11:30am CST (see mailing list for invitation)
Special Interest Groups:

YAML: Mondays, 10:00am-11:00am CST
Bootstrap: Wednesdays, 9:00am-10:00am CST
UI: Fridays, 12:00-1:00pm CST
Kata Containers
Kata Containers seamlessly delivers the speed of containers with the security of virtual machines. Kata Containers became a pilot project in December 2017, in conjunction with the OSF's evolution from being the home for OpenStack to becoming the home of open infrastructure collaboration. In April of 2019, Kata Containers was the first OSF pilot project to graduate to become an official OSF open infrastructure project. This milestone acknowledged the project's strategic relevance, well-defined governance procedures, commitment to technical best practices and open collaboration, and most importantly, an actively engaged ecosystem of developers and users
The project enjoys a global, engaged and growing community as evidenced by its 2019 stats: 3,164 commits made by 110 authors representing 20+ companies.

2019 was a breakthrough year with production deployments of Kata Containers by some of the world's largest cloud service providers, notably in China and North America. In November of 2019, Baidu won the Superuser award at the Open Infrastructure Summit for its numerous production deployments of Kata in both their cloud as well as edge service offerings. More than 20,000 skills from 3,000 developers run in Kata Containers as part of Baidu's Cloud Function Computing offering. Huawei also has multiple production deployments of Kata Containers in both their public cloud infrastructure as well as their Enterprise Intelligence Service, and in Alibaba and its related company Ant Financial, Kata Containers has been deployed in Alibaba's Cloud products and services, such as Edge Node Service (ENS), and is being tested for more cloud and financial applications. On the innovation front, Tencent is pioneering massive scaling of secure cloud gaming with Android in Kata Containers. Finally, in North America, Kata has been deployed by a leading Edge service provider as well as a popular software build services provider.
Although cloud service providers (CSPs) represent the early adopters of Kata Containers, in order to expand further into enterprise, support and integration by operating system vendors (OSVs) is essential. To that end, the project benefits from the deep technical expertise of developers from Red Hat (virtio-fs effort), SUSE (OBS and SLES integration) and Canonical (snap image, Charmed K8S integration). The snap image for Kata Containers in the Snapcraft store is up to nearly 3,400 weekly active users.
The Kata Containers Architecture Committee also went through two election cycles in February and Septermber 2019. Now the project is led by Eric Ernst (Intel), Samuel Ortiz (Intel), Xu Wang (Ant Financial, a related company of Alibaba), Justin He (ARM) and Haomin Cai (Huawei). The Architecture Committee members ensure that Kata Containers stays true to its goal of open collaboration and innovation around container speed and security.
Kata Containers development continues to thrive in 2019. With developers in Asia, the Americas and Europe, activity in the project's git and slack channel occurs around the clock. Developers with questions or issues genearally receive speedy and thorough responses. Since the 1.5 release in January of 2019, the project has delivered a steady beat of releases to both maintain stability and introduce new features. The 1.5 release included Firecracker hypervisor support, IBM s390 architecture support and a new method to integrate with containerd that greatly simplified Kata Containers architecture. The 1.6 release added open tracing support. The 1.7 release introduced an early preview of virtio-fs which was purposely designed and built for Kata Containers as a replacement of 9pfs. The 1.8 release focused on hypervisor improvements including qemu 4.0 and Firecracker jailer support, adding extra security isolation for the virtual machine manager (VMM) on the host. The 1.9 release towards the end of 2019 included Firecracker virtio-vsock support, rootless Kata with podman, experimental support for the ACRN hypervisor, and per pod custom configuration annotations.
Two OSF-sponsored open source hackathons were held in China in 2019 and Kata Containers was a featured project in both. It attracted developers from Alibaba, Baidu, Huawei and Tencent. Participants openly shared their adoption plans and feedback on the Kata Containers roadmap. The Kata Containers community continues to work closely with the OCI (Open Container Initiative) and Kubernetes communities to ensure compatibility. The Pod Overhead feature developed by Kata community was merged by Kubernetes as an alpha feature, to account for the resources consumed by the pod infrastructure on top of the container requests & limits. Following in the footsteps of RuntimeClass, Pod Overhead makes Kubernetes more Kata friendly.
Throughout 2019, in order to build awareness and interest for the project, the Kata Containers community presented technical updates and hosted gatherings at several global events including KubeCon + CloudNativeCon Barcelona, Open Infrastructure Summit Denver, KubeCon Shanghai and the Open Infrastructure Summit Shanghai. Kata Containers was also featured at several OpenInfra Days, OpenStack Days and other container-focused meetups around the world.
Looking ahead to 2020, the Kata community will focus on supporting its growing user community, driving innovation with the Kata 2.0 roadmap, and continuing open collaboration with the rapidly expanding container ecosystem.
The code is hosted on Github under the Apache 2 license. Learn about the project, how to contribute and support the community at katacontainers.io. Join these channels to get involved:
OpenStack Updates
A total of 1,518 unique change authors approved more than 47,500 changes and published two major releases, code named Stein and Train (due to our undying love of Trains). We started to work on Ussuri, our next release, to be delivered in 2020. In 2018, we introduced the "Extended Maintenance" concept, a period on which bugfixes can be accepted for projects following it (but these won't produce further releases). As of today, Ocata, Pike, and Queens are in extended maintenance.

Like in 2018, the component project teams completed work on stability, performance, and operational/usability improvements. They also worked on themes related to integrating with other OpenStack components, other OpenStack Foundation Open Infrastructure Projects, and projects from adjacent communities, for example Kubernetes or Ansible. We have introduced a deployment tools capabilities map, to make it even easier for new users to select their deployment tool of choice.
In addition to component-specific work, we continued to improve our OpenStack-wide processes by adding pop up teams next to goals, in order to have more flexibility on achieving large scale changes. During 2019, we have added two pop up teams "Image Encryption" (implementing encryption and decryption of images and the handling of those images in OpenStack) and the "Secure Default Policies" (consistent policies across OpenStack). This is in addition to our OpenStack wide goals: we made sure all the projects can render their documentation into PDFs, ensured that OpenStack works and is tested in IPv6 only environments (not only dual stacks!). We are also making sure the community is moving up in the python versions with an ultimate removal of python2 of our development pipelines in 2020.
The Technical Committee (TC) itself has evolved in 2019. We plan to reduce our members to 9 in 2020. Over the whole year, Chris Dent, Davanum Srinivas, Sean McGinnis, Doug Hellmann, Jeremy Stanley, Lance Bragstad, and Julia Kreger left the TC, to make way for first-time members Alexandra Settle, Jim Rollenhagen, Rico Lin, Kendall Nelson, Kevin Carter, Nate Johnston, and Jay Bryant.
2019 saw the beginnings of a transition from OpenStack project infrastructure hosting into OpenDev project hosting. This process will eventually separate our project hosting tools from OpenStack itself so that they may be more clearly reused by other projects. We expect to make significant progress on this transition in 2020.
With the input from the OpenStack Foundation board, the OpenStack TC updated its "help wanted list" to actively track where business and leadership opportunities can be for companies willing to invest in OpenStack.
During 2019, the OpenStack project infrastructure was renamed opendev.org, to make it clearer it can be used beyond OpenStack. Using Opendev namespaces, we now have a clear separation between official OpenStack projects and non-OpenStack open source projects developed under the same development tooling. In terms of project teams, the most visible change in 2019 was the extraction of Placement from the Nova team. Regarding SIGs, we are launching a "Multi-architecture" SIG (including the orginal work from the PowerVM project team which became the PowerVM SIG...), Ansible SIG, Containers SIG, Auto-scaling SIG (which is planned to merge with the existing self-healing SIG to form a new Automation SIG in the near future), Large Scale SIG, Technical Writing SIG, Public Cloud SIG (migrated from Public Cloud WG), Bare Metal SIG, and Edge Computing SIG (renamed from FEMDC SIG). This year, we closed down the Upgrade SIG, as we consider their work achieved and completed. This year, a lot of work was done to help creating and maintaining new SIGs (thanks to the "Meta SIG" team). This includes more guidelines and reference documents. As usual, the TC members will continue their work to expose SIGs broadly, to ensure all the different profiles and interests in OpenStack are efficiently represented, working, and collaborating together.
In 2019, the OpenStack User Committee (UC) brought onboard several new members including John Studarus (February electee), Belmiro Moreira (February electee), Mohamed Elsakhawy (August electee), and Jaesuk Ahn (September electee). Amy Marrich was re-elected to continue their service on the UC.
In this year we worked closely with the OpenStack Foundation staff to adopt new policies to better support the user groups. The migration of the user groups onto Meetup.com has allowed us to better support groups through local leadership transitions and reduce technical headaches. We also smoothed the process for new user groups to come online and be supported by the Foundation increasing the reach in these new and emerging regions of the world.
We continue to identify ways in which the new technologies developed can be promoted and evangelized. We believe the current Ambassador program, which is currently focused on supporting the user groups, can either be modified, or a new program created to help support those individuals actively promoting and evangelize our open source offerings.
The UC took an active role in updating the SIG and Working Group records to better reflect the leadership, goals, and status of these entities. We feel that having accurate records allows those looking to get involved to readily find the active communities.
The UC has been investigating reducing its membership from five (5) to three (3) members with plans to have the membership rules modified in time for the February 2020 election. We believe having fewer UC members will make it easier to keep the UC fully elected.
Starling X Project Update
StarlingX is a pilot project supported by the OpenStack Foundation that was announced May 2018. The project integrates well-known open source project including OpenStack, Ceph, Kubernetes, and more to create a cloud platform that is fine tuned for edge and IoT use cases.
During 2019 the community was working on creating a fusion between OpenStack and Kubernetes services to provide infrastructure software that creates a flexible environment to support virtual, containerized, or bare metal workloads.
The StarlingX community put out two major releases of the software during the year: StarlingX 2.0 (latest version is 2.0.1) and StarlingX 3.0. The 2.0 release introduced fundamental changes to the architecture including containerizing OpenStack and other services to provide more flexibility, robustness, and increased manageability. Besides architectural changes community members were also focusing on features to improve security and performance including to start work on creating a performance testing framework to ensure maintaining high standards on an ongoing basis. The 3.0 release add a crucial component called Distributed Cloud architecture to provide synchronization across edge sites. The feature is in line with the Distributed Control Plane scenario of the OSF Edge Computing Group's Reference Architecture models.
The latest release is also integrating the Train version of OpenStack. This was an important step as with this step StarlingX doesn't carry more enhancements to the project as extra patches and the team members are actively working with the OpenStack community on further improvements and new functionality upstream.
The community has reached another milestone by having a fully elected leadership. The Technical Steering Committee (TSC) had two elections replacing half of the group each time while Project Leads and Technical Leads got elected during the second half of the year. Elections will be held on a regular basis going forward.
Further high priority items included community building and outreach. It is very important for the project to lower the boundaries of entry and make sure that it is easy for newcomers to find entry points. The community has been actively working on improving documentation and creating materials to guide new contributors. The project held a Contributor Meetup in the USA and further meetups and meetup for release 2.0 and hackathons in China last year and community members also took advantage of the Project Team Gatherings as well as the Open Infrastructure Summits and Forums to have face to face discussions as well as to onboard newcomers. Some of the team members put together a hands-on workshop which guides participants through installing StarlingX and trying out some of the features it provides. Community members ran the training at various OSF and industry events throughout the year. The infrastructure is running on hardware donated by Packet.com.

The project had 3359 changes committed by 147 authors from more than 10 organizations during the year.
The code is hosted on Github under the Apache 2 license. Learn about the project, how to contribute and support the community at starlingx.io. Join these channels to get involved:
IRC: #starlingx on Freenode
Zuul Project Update
Zuul is an open source CI/CD platform designed for test-driven open source projects and software development organizations who need to gate against multiple projects and systems before landing a single patch. Since 2012, Zuul has been proven at scale as a critical part of the OpenStack development process. As more users and use cases emerged, the team has been decoupling Zuul from OpenStack-specific systems. 2018's Zuul version 3.0 release was a major landmark in making Zuul generally usable outside of the OpenStack project. In 2019 Zuul has taken general usability even futher, focusing on adding features for a variety of code review systems, cloud resource providers, and container based testing workflows.
More than 1,000 changes were made to Zuul in 2019. In an effort to ensure new features and bug fixes reach Zuul users quickly, Zuul has been releasing often, publishing 17 releases in 2019. In this collection of releases support was added for Pagure code review system, AWS cloud resource provider in Nodepool, OpenShift cloud resource provider in Nodepool, improvements to live console log streaming, build dashboards and log navigation and much more.
Zuul version 3.7.0 added support for multiple versions of Ansible. With current Zuul deployed, users can select which version of Ansible they want their jobs to run with out of Ansible versions 2.6, 2.7, 2.8, and 2.9.
Zuul's standard library saw a major addition of container aware jobs. These standard container base jobs allow Zuul users to do speculative gating of their container images in addition to their source repositories. This feature helps to ensure that the images you deploy to production are identical to those tested and known to work while still having all of the benfits of speculative merge gating.

We see these improvements in production, where Zuul is helping a variety of users at different scales produce and deploy quality software. Good Money's 900 jobs a month enable reliable software deployments. At France's Internet flea market, leboncoin, 60,000 jobs a month help you find forgotten treasure. OpenDev's Zuul ran more than 2 million jobs to help produce the OpenStack Train release.
Ansiblefest and Gerrit User summit were important events for us in 2019. Not only have we continued to see interest in Zuul from users at Ansiblefest, but Vexxhost launched the first known Zuul as a Service service there. At Gerrit User Summit we discovered Volvo is a happy Zuul user. We have also begun collaborating with the Gerrit project to add Gerrit Checks API support to Zuul. Our goal is to have a Zuul running to help gate the Gerrit project once this feature is added.
Looking ahead, the Gerrit Checks API is only one of many features we would like to add to Zuul. From an integration standpoint Gitlab and Bitbucket support is under active development, changes have begun to merge to add Google Compute Engine support to Nodepool, and Microsoft Azure driver work has begun. We still have plans to remove the current single point of failure for the scheduler process and manage job and queue state with the distributed database. This will make it easier to run Zuul reliably without downtime.
All of this is possible through the work of our global community. We are proud to say we have contributors from across the globe, including Africa, Asia, Australia, North and South America, and Europe. We thank them for helping to make Zuul possible.
Zuul is free and open source software licensed under the Apache 2 license. If you would like to get involved, join us:
On IRC: #zuul on Freenode