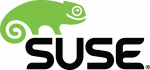 About SUSE
SUSE is a pioneer in open source software, providing reliable, interoperable Linux and cloud infrastructure solutions that help enterprises increase agility, manage complexity, and reduce cost. More than 20 years of engineering excellence and exceptional service allow us to adapt and deliver the smarter innovation customers need to succeed.
---
SUSE Commitment
SUSE is a founding member and platinum sponsor of the OpenStack Foundation. SUSE were also the first to launch a commercially supported OpenStack distribution based on the Essex OpenStack code release in 2012. Since then, we have focused on making SUSE OpenStack Cloud the best private cloud solution for enterprise business.
SUSE OpenStack Cloud is the enterprise private cloud solution of choice. Designed for HA, rapid deployment and ease of use, along with the widest hypervisor support and interoperability, it delivers the agility and control to drive innovation.
This product uses OpenStack's Ironic Bare Metal service. Ironic allows users to manage bare metal infrastructure like they would virtual machines and provides ideal infrastructure to run container orchestration frameworks like Kubernetes to optimize performance.
This product supports OpenStack Federated Identity, allowing it to connect to other OpenStack clouds for Authentication and Authorization.
OpenStack Services Enabled
| Service | Release | API Coverage |
| --- | --- | --- |
| Bare Metal Provisioning Service | Rocky (Ironic ) | N/A |
| Block Storage API & Extensions | Rocky (Cinder v3) | |
| Compute Service API & Extensions | Rocky (Nova v2.1) | |
| Container Orchestration Engine Provisioning API & Extensions | Rocky (Magnum v1) | |
| Dashboard | Rocky (Horizon ) | N/A |
| DNS service API | Rocky (Designate v2) | |
| Identity service API & Extensions | Rocky (Keystone v3.0) | |
| Image service API | Rocky (Glance v2.5) | |
| Key management API | Rocky (Barbican v1.0) | |
| Metering & Data Collection Service API | Rocky (Ceilometer v2.0) | |
| Monitoring | Rocky (Monasca ) | N/A |
| Networking API & Extensions | Rocky (Neutron v2.0) | |
| Object store API & Extensions | Rocky (Swift v1.0) | |
| Orchestration API | Rocky (Heat v1.0) | |
| Shared filesystems API | Rocky (Manila v2) | |
Other Details
Supported Hypervisors
KVM ESXi
Supported Guests
Windows Linux
---
Regions where support is offered
South America
Central America
North America
Europe
Middle East
Asia Pacific
Videos
ChalkTalk: SUSE OpenStack Cloud (07:14)
More Resources