Today's keynotes highlighted how OpenStack is being used in production and in large scale deployments. Keynote speakers for Day 3 of the summit were from event sponsors HP and Cisco, and from event organizer Rackspace.
Zorawar 'Biri' Singh, HP
Zorawar 'Biri' Singh, senior vice president and general manager for Cloud Services at HP, began the keynotes by showing how they've made OpenStack enterprise production ready. He outlined how HP has built a full featured enterprise cloud using OpenStack, and evaluated the readiness of distributed IT in production cloud workloads.
Singh's big question was how to use OpenStack to drive more enterprise and service provider adoption. Singh wants to make more hybrid delivery happen, and believes the critical next stage is getting traditional production workloads into the cloud.
Singh was thrilled by the large amount of announcements and work being done on this during the summit. "A common cloud operating system model emerging, that is OpenStack," he said. "At the end of the day the real measure is production workloads. We need to focus on web-scale grade production at a global level."
HP is one of the larger contributors to OpenStack code, and is deeply involved in open source projects like Chef, Jenkins, Git, and others.
Troy Toman, Rackspace
Toman, senior director of engineering for Cloud Compute at Rackspace began his keynote by looking back at OpenStack's beginning at Rackspace. Toman noted that the OpenStack community has stepped up and made broader and broader contributions each year. Toman was proud that the Rackspace contribution percentages have been steadily declining, from 54% of commits in Essex to 30% in Folsom. "We've got a bright future ahead of us," Toman said.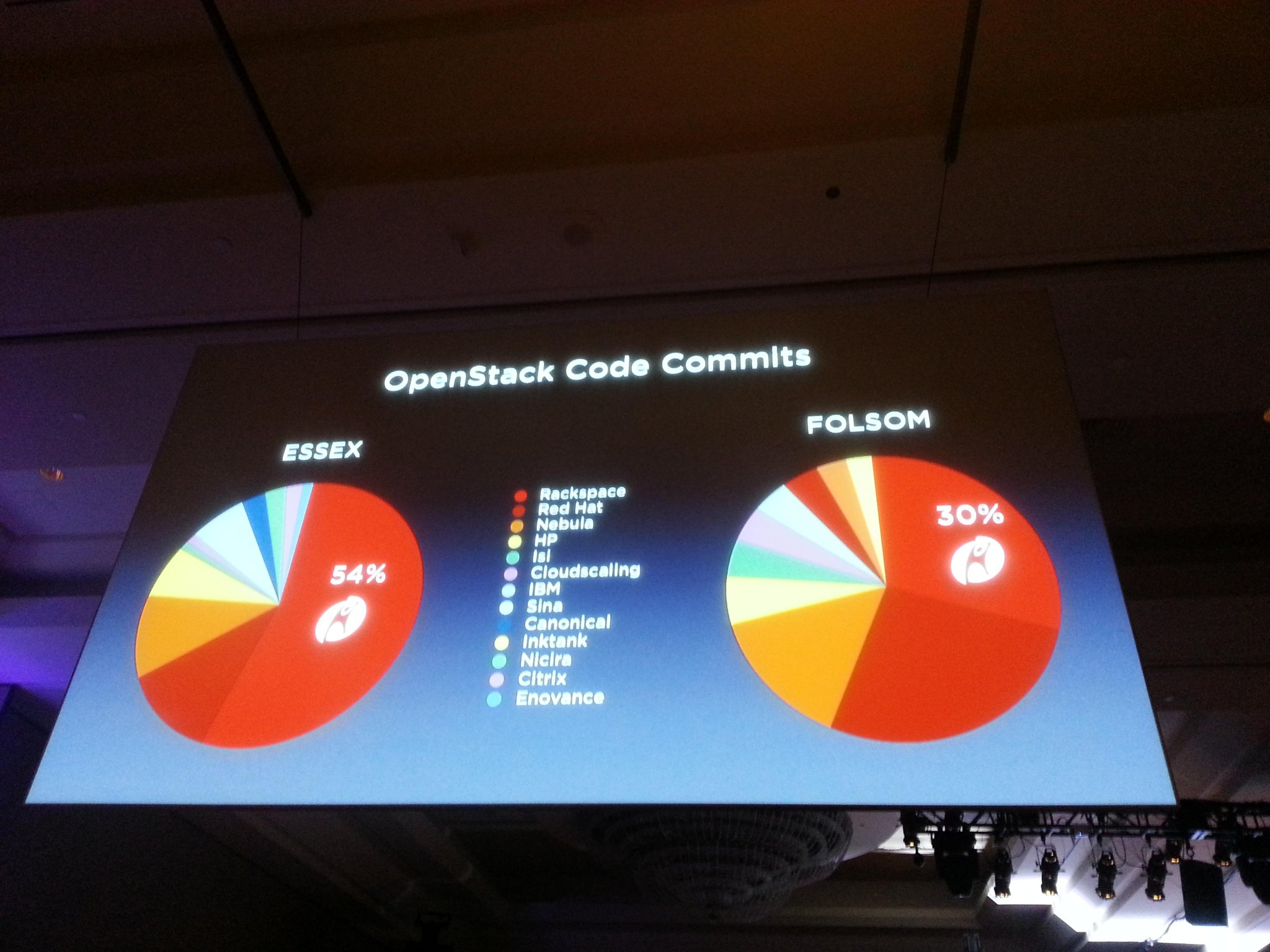 Toman then showed how Rackspace runs on Openstack today, with Quantum/Melange, Nova, Glance, Swift, all in production. In addition, they are using OpenStack for continuous delivery by running trunk in production, and deploying every few weeks in less than an hour. Toman shared some impressive numbers from Rackspace's private cloud Alamo which runs on OpenStack: 120 million API hits, 99.97% availability, even four downloads from Antarctica.
Looking ahead, Toman asked the community to work together to deliver on the OpenStack promise. Pointing to the many examples of OpenStack in production, Toman wants to shift our attention back to the community and to making the right decisions. "We have a core that we know is the right thing. So how do we continue to innovate?" Toman asked.
"We're all in it for the same reason, we disagree on the means, but want the same ends."
Reinhardt Quelle, Cisco WebEx
Reinhardt Quelle, operations architect at Cisco WebEx, finished the morning's keynotes with an in-depth look at Cisco's use of OpenStack.
What was a surprise to many was that Cisco's Cloud services run WebEx and Cisco internal private cloud on OpenStack. Quelle explained why Cisco and OpenStack were a natural fit. Cisco has contributed to open source projects before like Jabber and the Apache Traffic Server, and wanted more flexibility and the ability to control their own cloud destiny, so to speak. With OpenStack, they get many options for support from both within Cisco and without, and the confidence of long term support.
Quelle explained how Cisco and WebEx have implemented Nova and Swift, as well as Nova Volumen and instance scheduling.
Quelle that Cisco product teams didn't have to write everything themselves. They could draw on contributions from the OpenStack foundation, local meetup groups, public clouds, web forums and fellow users make it easier for them to use OpenStack and benefit from community experience and expertise.
Read the full case study here.
Notable
A common theme among the keynotes this morning was the need to hire more people to work on these problems. Executive Director Jonathan Bryce asked the audience in between keynotes how many attendee companies were hiring. Nearly everyone in the room raised their hand.